St Andrews Association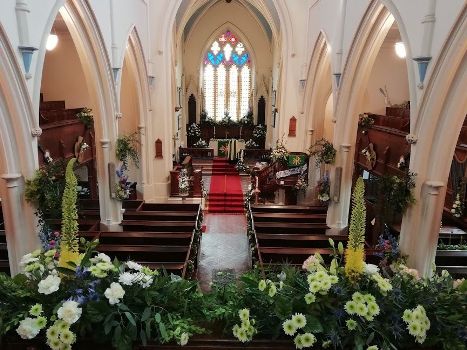 The St Andrew's Association, formed in 2019, is here "To support and encourage a wide range of Community, Social, and Arts activities and Events at St Andrews Church."
Our first major event was the Flower and Music Festival held in the summer of 2019 It was a success! We celebrated 190 years in style, both showing people the skill and artistry our flower arrangers have, and enjoying the various musical events and talks through the week. The St Andrews Singers did themselves proud, and the Jamie Knight concert certainly had everyone dancing in the aisles! Several people came for multiple visits as they couldn't take it all in in one go!
With a grant application and funds raised we were able to replace the Narthex carpet (40 years old), with a light hoover to help the cleaners, add blue tooth and head mics to the sound system, and mobile notice boards.
An excellent effect of the Festival is the number of ideas for other events we can have in our church, and ideas of things we can do to support our community.
We started Sunday Afternoon concerts and tea in the Autumn of 2019 which were thoroughly enjoyed, and there is a further programme lined up for when we are allowed to start again. Please keep your eyes peeled!
If you would like to join us talk to Fiona 01905 621176 or Louise 01905 620995