Open the Book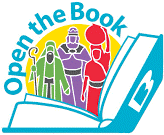 Open the Book (OtB) is a project which offers primary school age children an opportunity to hear key Bible stories, from a team of Christians from local churches, who present the stories during assemblies/acts of Collective Worship. Each presentation takes around 10 – 15 minutes and can be incorporated into a wider school assembly, or can stand alone.
At St Andrews, we have a small but very dedicated team of volunteers to go into Ombersley Endowed First School to deliver the OtB assemblies once a fortnight during term time.
We follow a very well written handbook and perform or read the story from the Lion Storyteller Bible written by Bob Hartman. The Handbook gives guidance on how to present each story. We always end with a song or hymn that the children know or can be taught easily.
The children and teachers love us coming into school and it is a very fulfilling part of our Christian outreach for our church.
If you would like to get involved please contact me – Jane Hill (OtB co-ordinator) by email: This email address is being protected from spambots. You need JavaScript enabled to view it.