Welcome to Saint Andrew's Church
St Andrew's is the parish church for the village of Ombersley which lies within the Worcester Diocese of the Church of England.
How to find us : Take the Ombersley exit from the A449 Worcester to Kidderminster road. The church is on the left just before the village roundabout (post code: WR9 0EP). Access is through the Lychgate - there is parking on the gravel drive. Open Wednesday, Saturday and Sunday during Covid restrictions.
Sunday 28th February 
2nd Sunday in Lent
11am Common Worship Holy Communion via Zoom
Activities in Lent
Morning Prayer. Some people are making it a discipline for Lent to attend Morning Prayer each weekday morning at 9.15. Please feel free to join in. If you go to the Church of England website and click on this link https://www.churchofengland.org/prayer-and-worship/join-us-in-daily-prayer/morning-prayer-contemporary-thursday-18-february-2021 you will find the prayers and readings for every day. You can either pray privately or with a group of people who are praying for our parishes every day. 
Lent Courses. This year we are going to be studying the psalms together, that most ancient of prayer books that Jesus himself used each day. Following a guide from one of the world's leading Old Testament scholars, Walter Brueggemann, we will find how praying the psalms can sustain us through times of security, when we are confident about where we are; times of disorientation, when we feel lost; and times when we find ourselves again, experiencing God's deliverance. There will be two groups. One group will meet on Wednesday evenings at 7 pm for one hour. The other group will meet on Thursday lunchtimes at 12.30 for one hour. Why don't you sit down with a bowl of soup and rolls and your favourite cuppa and make a donation to a Lent charity?
Lectio Divina. Why not learn an ancient way of praying with the bible that was developed by the Benedictines 1500 years ago. All you  need is a bible in your favourite version. We are all beginners. We meet every Thursday afternoon at 4 pm for one hour and we are currently praying together through John's Gospel.
Each one of these activities is available to any who want to join them via Zoom. The Meeting ID is 845-168-9869 & the password is available from the Parish Office.
 ***********************
All-Age Worship on the 2nd Sunday of each Month.
Currently, while our services are all on-line, we are having an All-Age service on the 2nd Sunday of each month. If you would like to play a part in these services in any way could you please let Stephen Winter know either by email at This email address is being protected from spambots. You need JavaScript enabled to view it. or by calling or texting 07773 760899.
***************************
 You may be interested in a free online conference on 'Confident Christianity' on 6th March
visit https://www.solas-cpc.org/hereford for more details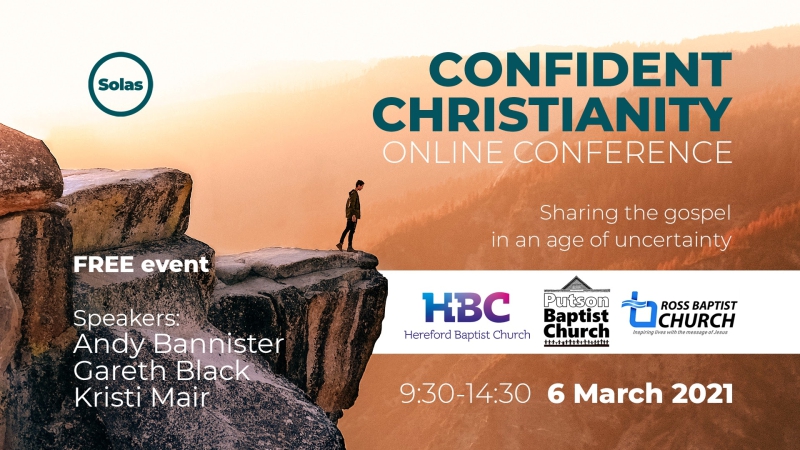 Below is info re a helpline available from the CofE in case you or anyone you know would like to make use of it...

Safeguarding
A new scam has been reported in which a person receives a text saying they need to book a vaccination appointment via a link, which takes them to a fake NHS form asking for bank details to prove their identity.
Please be aware that bank info would never be requested.
Morning Prayer
Morning prayer takes place on weekdays at 9.15am unless otherwise stated. You can join in through Zoom using the meeting ID 845-168-9869 & the password is available on request. The password will be changed in February.
Lectio Divina
Every Thursday afternoon at 4 pm a group of us are meeting to learn how to read the bible prayerfully using an ancient practice developed first by the Benedictines called Lectio Divina, or Holy Reading. We are currently working our way through the Gospel of St John. It is never too late to join in. All you need is a version of St John, whichever you choose. You can join in through Zoom using the meeting ID 845-168-9869 & the password is available on request 
Can we pray for you?
Each weekday morning we gather for Morning Prayer at 9.15am. If you would like to join us then please use the same Meeting ID and password as for the Sunday Service. If you would like us to pray for you then please send me an email at
This email address is being protected from spambots. You need JavaScript enabled to view it.
 On-line Parish magazine
 Ombersley 
 The on-line Parish Magazine for December and January has been posted on the allaboutombersley web site.
Click on the 'Parish Mag' button, far right, in the black menu bar at the top of the home page.
Revd. Stephen Winter 07773 760899
This email address is being protected from spambots. You need JavaScript enabled to view it.
Benefice Administrator: Mr. Nicolas Wright 01905 622464
This email address is being protected from spambots. You need JavaScript enabled to view it.
---
---
Are you worried about something? Would you like to talk to someone?
The Parish Safeguarding Officer for St Andrew's is:
Jenny Batelen tel: 01905 621294 or 07503 334598 - email: This email address is being protected from spambots. You need JavaScript enabled to view it.
Rector: Rev Stephen Winter tel:07773 760899 - email: This email address is being protected from spambots. You need JavaScript enabled to view it.
Diocesan Safeguarding Adviser:
Hilary Higton tel: 07495 060869 - email: This email address is being protected from spambots. You need JavaScript enabled to view it.
Childline 'You can talk to us about anything. No problem is too big or too small'. call us free on 0800 1111 or CLICK HERE to get in touch online.