Welcome to Saint Andrew's Church
St Andrew's is the parish church for the village of Ombersley which lies within the Worcester Diocese of the Church of England.
How to find us : Take the Ombersley exit from the A449 Worcester to Kidderminster road. The church is on the left just before the village roundabout (post code: WR9 0EP). Access is through the Lychgate - there is parking on the gravel drive. Open Wednesday, Saturday and Sunday during Covid restrictions.
What's happening at St Andrew's - inside and out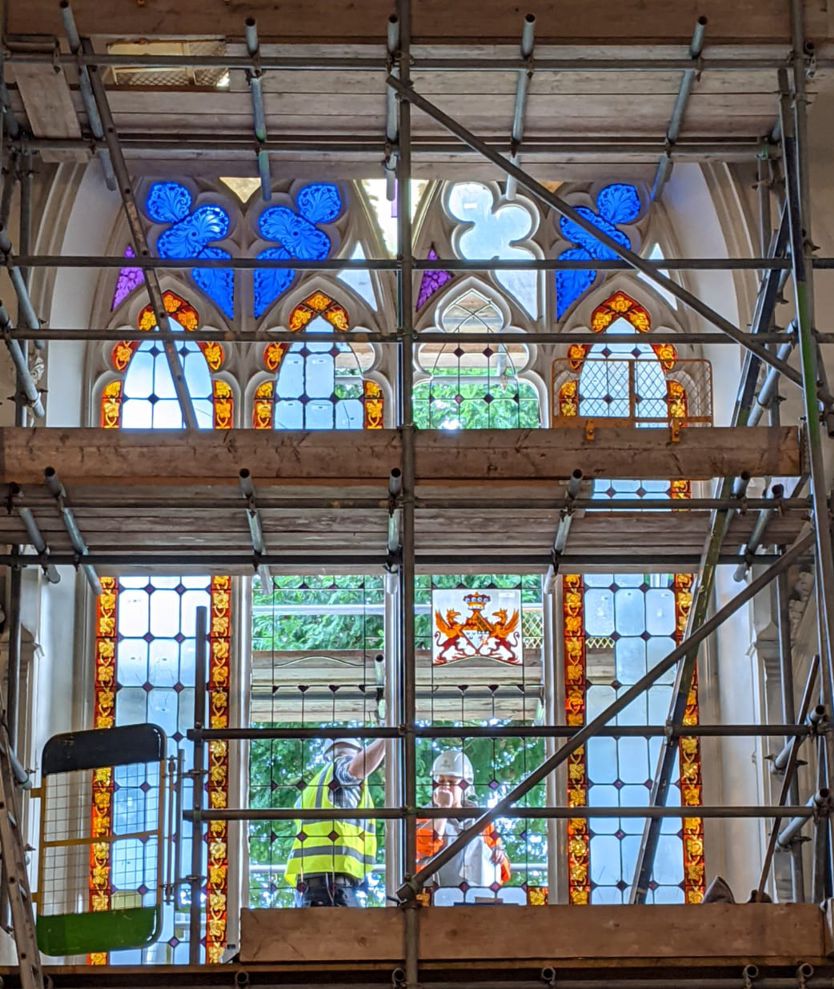 November 2020: More Good News... 
Repair work on the Main East Window is nearly finished
The final panes of glass will be replaced w/b 16th November, we then wait for the putty to set and the frames to be painted before the choir vestry windows are started.
We are adding photographs from our visit to Holywell Glass, please check out the Window repairs tab to the right.
The Sunday Service this Week 
Online Zoom Holy Communion Service for Advent Sunday streamed from St Andrew's (no congregation)
   New St Andrew's Meeting ID:  537 046 9477
for the passcode please contact  Mr. Nicolas Wright 01905 622464

This email address is being protected from spambots. You need JavaScript enabled to view it.
From  Tuesday 17th November:     Thinking about Prayer. What can I pray for? Why don't all my prayers get answered? How much do I need to pray? Can my prayer life get deeper than it is now? Can prayer help me get through dark days?
Watch out for some study notes in an email at the beginning of next week. Each session will be led by Rev Stephen Winter. 
 Thursday 19th November:
 Praying with the Bible. Stephen Winter will be leading a weekly session in which we will learn a simple and ancient method of prayer that uses the bible. It was first developed about 1500 years ago and many thousands of people use it today. Come and join in in order to deepen your own prayer.
 Zoom ID 845-168-9869 & the password will be available from Stephen
Can we pray for you?
Each weekday morning we gather for Morning Prayer at 9.15am. If you would like to join us then please use the same Meeting ID and password as for the Sunday Service. If you would like us to pray for you then please send me an email at
This email address is being protected from spambots. You need JavaScript enabled to view it.
 On-line magazines
Ombersley 
The on-line Parish Magazine for October has been posted on the allaboutombersley web site.
Click on the tab on the top right of the front page (Parish Magazine 2020)
Revd. Stephen Winter 07773 760899
This email address is being protected from spambots. You need JavaScript enabled to view it.
Benefice Administrator: Mr. Nicolas Wright 01905 622464
This email address is being protected from spambots. You need JavaScript enabled to view it.
If you do not wish to continue receiving this newsletter, please unsubscribe by emailing to let us know us at
This email address is being protected from spambots. You need JavaScript enabled to view it.
The Weekly Message can be found under  Church News
---
---
Are you worried about something? Would you like to talk to someone?
The Parish Safeguarding Officer for St Andrew's is:
Jenny Batelen tel: 01905 621294 or 07503 334598 - email: This email address is being protected from spambots. You need JavaScript enabled to view it.
Rector: Rev Stephen Winter tel:07773 760899 - email: This email address is being protected from spambots. You need JavaScript enabled to view it.
Diocesan Safeguarding Adviser:
Hilary Higton tel: 07495 060869 - email: This email address is being protected from spambots. You need JavaScript enabled to view it.
Childline 'You can talk to us about anything. No problem is too big or too small'. call us free on 0800 1111 or CLICK HERE to get in touch online.